Teen Moms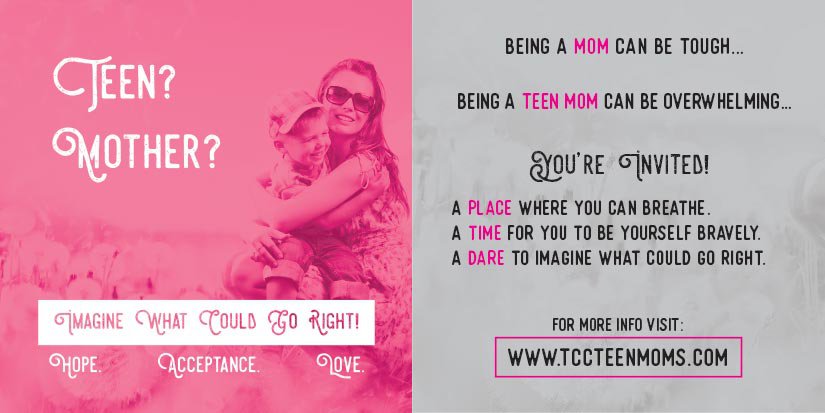 Now meeting at 2 Locations:
Tri County Church: Downtown (DuBois) - Nikki Johnson: (814) 503-0519
Tri County Church: North Central - Jenny Redmon (570) 295-7159

About
We are a fun group of moms who know that mothering is the most difficult, unpredictable, messy, and beautiful job in the world! We are a group of flawed women who believe it's important to remember who you were before you became a mom.
We believe that a community of moms makes this job a little easier, we believe that you and your child matter, and we believe in friendship and laughter!


What we do:
We work with Tri County Church, Christian Missionary Alliance Church, and members of the community to provide young moms with a fun, safe, and welcoming place to journey through this thing called motherhood.
We provide a delicious meal, dependable child care, fun activities and a welcoming space to learn, to grow and to connect with other young moms.
Registration, dinner, and child care are free!


Who is welcome:
If you are a mom (being pregnant counts too) and under 22 years old this group is for you!
You and your child(ren) are welcome at any meeting any time; but we would be thrilled if you let us know you were coming so we could set a special place at the table just for you!

DuBois Area
DuBois Area: We meet most 1st and 3rd Tuesday evenings (Sept. – May) at the Tri County Church: Downtown Campus. map
Time: 5:30 - 7:30
Dates: September 17 | October 1 | October 15 | November 5 | November 19 | December 3 | December 17
January 7 | January 21 | February 4 | February 18 | March 3 | March 17 | April 7 | April 21 | May 5 | May 19

Mill Hall / Lock Haven Area
Mill Hall / Lock Haven Area:
Contact Jenny Redmon (570) 295-7159 for current schedule and details.

Find out more:

Interested in helping with this outreach? Get involved!
Are you able to help with the following:
I would like to prepare a meal for an upcoming meeting.
I would like to provide childcare for an upcoming meeting.
I have a particular talent/profession/story that I would be willing to share with Teen Moms.